One aspect of being a hero is exceptionality in an area of responsibility and bringing advances in that area to your community.
TopicHero methodically and continually brings information to employees in their area of responsibility, and also provides tools to help them intelligently share their reasoning about this information with others.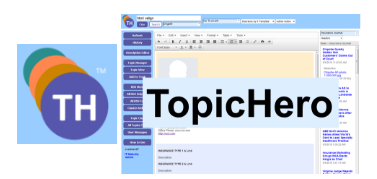 TopicHero encapsulates several aspects of Collaborative Intelligence, which is where teams of users and computer tools intelligently collaborate on enterprise endeavors.
There is a wealth of knowledge and reasoning contained within web based tools such as browsers. TopicHero enables users to intelligently and effectively manage, share and collaboratively reason about this information. This includes information and reasoning contained within links/bookmarks, Search Engines, RSS/News Feeds, Chat, Notes, and Webpages.
TopicHero allows you to optimize your Enterprise Vision by enabling your team to persistently and consistently review, integrate and share the most recent developments in their areas of focus. In this way your enterprise can realize Vision at the Speed of Change. Don't get stuck with annual Vision creation, which becomes half a year out of date on average. The TopicHero team provides services to help you integrate TopicHero into your Enterprise so that your Enterprise Vision consistently stays up to date.
The TopicHero team is committed to your success, and the growth of your enterprise team in the collaborative intelligence space. This commitment goes beyond just TopicHero.com and Vision Collaboration, TopicHero is part of a larger IT Maturity Method, where IT tools are used to mature enterprises across the board, which includes tools and training for: leadership, vendor integration, negotiation, enterprise media, creating learning organizations, and technology advancement.
The TopicHero team also provides consulting on other Collaborative Intelligence tools such as NuEngineer which provides a spectrum of Artificial Intelligence methods and software integration mechanisms.
Take this rare opportunity to be one of the first to leverage Collaborative Intelligence tools to evolve your enterprise into real-time vision. You can go to https://TopicHero.com to learn more and register for a personal or business account. You can also schedule an informational meeting at https://itmaturityinc.com/appointments.
URL's: https://TopicHero.com, http://itmaturity.com
Email: info@itmaturity.com
Schedule a meeting: https://itmaturityinc.com/appointments
Phone: 866-614-6888
l000000000000000000000000000000000000000000000000000000000000000000000000000000000000000000000000
#TopicHero #CollaborativeIntelligence #ITMaturity #ITMaturityMethod #VisionSpeed #NuEngineer #Leadership